Language Scientific's Quality Management Systems are ISO 9001 certified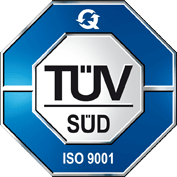 Language Scientific recognizes the importance of standards and procedures to endorse its quality translations. We follow strict quality control processes in keeping with our ISO:9001:2015 and ISO 17100:2015 certification and have developed precise procedures and evaluation methods to ensure compliance with ISO standard requirements.
While many organizations self-certify, we have gone through the additional step of independently certifying through TŰV SŰD to ensure the highest quality standards are maintained. TŰV SŰD is recognized worldwide as a premiere compliance body. TŰV SŰD rigorously audits Language Scientific to ensure ISO:9001:2015 and ISO 17100:2015 principles are met and continues to review Language Scientific at least once per year.
Language Scientific obtained its ISO 9001:2015 accreditation in May 2018 and ISO 17100:2015 in May 2017.
What does Language Scientific's ISO 9001:2015 certificate signify?
ISO or the International Organization for Standardization is a global standardization organization of 162 member countries that provides a framework to certify quality management procedures. This certification guarantees that we have well documented processes.
ISO 9001:2015 is a business certificate that focuses on Language Scientific's Quality Management System (QMS). ISO certification demonstrates and monitors effective planning, operation and control of a company's processes and the implementation and continual improvement of its QMS. The ISO framework provides a stated quality policy, quality manual and documented procedures, along with documented organization, implementation and record keeping.
ISO 9001:2015 Certification requires strict operation standards based on eight quality management principles including:
Customer Focus
Leadership
Involvement of People
Process Approach
System Approach to Management
Continual Improvement
Factual Approach to Decision Making
Mutually Beneficial Supplier Relationship
Alongside our ISO 9001 certification, Language Scientific is also ISO 17100:2015 certified. This certification is the successor standard to EN 15038. To receive our ISO 17100 certification, Language Scientific was audited by third party TÜV SÜD, an internationally recognized, independent certifying organization.
ISO 17100:2015 provides requirements for the core processes, resources, and other aspects necessary for the delivery of a quality translation service that meets applicable specifications.
Application of ISO 17100:2015 also provides the means by which a translation service provider (TSP) can demonstrate conformity of specified translation services to ISO 17100:2015 and the capability of its processes and resources to deliver a translation service that will meet the client's and other applicable specifications.
Applicable specifications can include those of the client, of the TSP itself, and of any relevant industry codes, best-practice guides, or legislation.
The use of raw output from machine translation plus post-editing is outside the scope of ISO 17100:2015.
ISO 17100:2015 does not apply to interpreting services.
Language Scientific is committed to uphold quality management and organization principles in keeping with our ISO certificates. We stand by our translations and are able to offer a Certificate of Accuracy to all our clients.