In a previous blog, I defined EN15038, and described it as a way to evaluate translations and language service providers. Now we'll explore ISO 9001 and ISO 9001 certified translation services.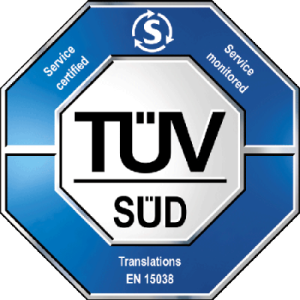 Having ISO 9001 certification is another way for you to know that your language service provider offers quality translations using certified processes and that you will be delivered what you were promised.
History of ISO 9001
ISO, or the International Organization for Standardization, is a global standardization organization of 162 member countries that provides a framework to certify certain quality management procedures. ISO is the world's largest standards organization has been providing international standards since 1947.
ISO 9001 was first developed for the manufacturing industry in Great Britain as BS5750. In 1987, this was then renamed ISO 9000 and set up as an international standard. Originally this standard focused primarily on having a process and conforming to it.
ISO 9001 was updated in 2000 to focus less on mere conformance to processes and more on business management, adding emphasis on customers, involvement and continuous improvement. In 2000, ISO 9001:2000 was set up to combine ISO 9001, 9002 and 9003.
In 2008, ISO 9001 was again updated, and ISO 9001:2008 is the most current form of this certification. ISO 9001:2008 is more relevant to service industries. Most of the changes to this recent update were made to clarify the previous standards, with no major changes to its requirements.
What is ISO 9001:2008 Certification?
While ISO 9001 is not specific to the translation or localization industry, it does certify that there are well documented processes. This business certificate focuses on having a Quality Management System (QMS).
ISO 9001 certification demonstrates and monitors effective planning, operation and control of a company's processes and the implementation and continual improvement of its QMS. The ISO framework provides a stated quality policy, quality manual and documented procedures, along with documented organization, implementation and record keeping.
ISO 9001 was set up for companies to focus on meeting customer needs, delivering what was promised to customers and improving overall quality of products and services. ISO 9001 looks for continuous improvement. When deficiencies or mistakes are identified, a process is set up to evaluate and address the shortcoming to continually improve the process.
8 Primary Requirements of ISO 9001 Certification
ISO 9001:2008 Certification requires strict operation standards based on eight quality management principles including:
1 – Customer Focus
The Language Service Provider must understand the customer's needs and requirements and then satisfy or exceed them.
2 – Leadership
To improve business, management must clearly define and communicate company vision and strategy.
3 – Involvement of People
Organization's employees must be involved and be given ownership of the processes and improvement of them. Quality policy should be understood at all levels by all employees, and each employee works towards measurable objectives.
4 – Process Approach
All company activities are processes, and should be managed for efficiency and improvement.
5 – System Approach to Management
All processes should be integrated into a system that can further improve efficiencies and success. Overarching systems should be in place for all aspects of the processes.
6 – Continual Improvement
Performance should be continually reviewed to further improve processes. There must be a documented procedure for internal audits, and keeps records to improve the system.
7 – Factual Approach to Decision Making
Use predetermined metrics to collect information. Use this information to make decisions. All business decisions must be based on recorded data.
8 – Mutually Beneficial Supplier Relationship
See customers and vendors as partners and look for benefits to both sides.
ISO 9001:2008 certification must be renewed at least every three years. Higher quality language service providers will audit their processes annually. The ISO 9001:2008 certificate is either granted or not; there are no levels to this certification.
As a side note, a related standard within the ISO 9000 family is ISO 9004, which offers guidance as to how to implement ISO 9001 to ensure continuous improvement.
Independently ISO 9001 Certified Language Services Providers
Ideally you would want a language service provider who is independently certified by an outside organization (such as TŰV SŰD). Organizations who self certify cannot guarantee the same level of oversight as can one who has an outside agency monitor and certify the ISO9001 process.
TŰV SŰD is recognized worldwide as a premiere compliance body. TŰV SŰD performs meticulous onsite audits to ensure compliance with ISO 9001 quality standards and then continues to randomly review the language service provider at least once a year.
One thing to remember is that ISO 9001 certifies that the language service provider follows a process, but it does not dictate specifics to translation. EN15038 certifies translation service and not process management as is the case with ISO 9001. Ideally you would want to work with a language services provider who is certified in both EN15038 and ISO9001 and that works within theASTM Standard guidelines.
As stated in my previous blog on EN15038 certification, while there are no guarantees when it comes to translation quality, selecting a language service provider that is ISO 9001 certified provides an additional standard by which to judge language service providers.
ISO 9001:2008 is an objective metric to measure the process in place and the quality of the deliverables as stated of your language service provider.