Language Scientific's Translations are EN 15038 certified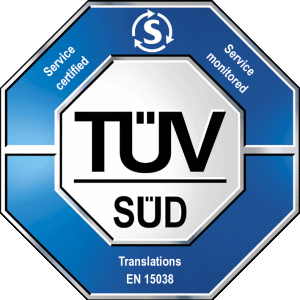 Language Scientific is among the select few language service companies that are EN 15038 certified. We offer the highest quality translations using a specific translation process and standardized approach. We guarantee our translation quality by assuring that at least three different people translate, edit and review all translations in keeping with EN 15038:2006 certification standards. All Language Scientific projects undergo strict quality control procedures using our advanced people, certified processes and applied technologies.
While many organizations self-certify, we have independently certified through TŰV SŰD  to ensure the highest quality standards are maintained. TUV SUD is recognized worldwide as a premiere compliance body. TUV SUD performs meticulous onsite audits to ensure compliance with EN 15038 quality standards and continues to randomly review Language Scientific at least once a year.
Language Scientific obtained its EN 15038 certification in November 2011.
CEN (the European Committee for Standardization) established EN 15038 certification in 2006, which clearly defines criteria for providing quality translations. This is the first international quality standard that is applied specifically to translation providers. This certification offers a reliable method of evaluating translation services and standardizes quality expectations for translations.
EN 15038:2006 is a rigid standard that is specific to the language services industry. The EN 15038 standard introduces requirements for compliance with certain common procedures and monitors the specially developed processes for translation—from acceptance of an order to its delivery. EN15038 certifies translation service and not process management as is the case with ISO 9001. The primary elements of EN 15038 certify project requirements, translator qualifications and independent personnel performing the various steps of translation, editing and proofreading.
As a minimum requirement under EN 15038 certification translations must involve at least two separate people performing Translation and Editing (or review). Language Scientific goes a step further than this standard and has a third person Proofing all translations. This means that each of our translations has a minimum of three independent linguists looking at each translation to guarantee the highest quality.
Among the requirements to be EN 15038 certified are documented procedures for client contact and quality assurance. EN 15038 certification also focuses on core translation processes including commissioning, translation, proofreading, review, project management, quality control, traceability and delivery project assignment, use of technical resources, pre-translating process, source text analysis, terminology work and the style guide.
In addition to our EN 15038:2006 certificate, Language Scientific also has ISO 9001:2008 certification and works within ASTM Standard guidelines.
Language Scientific is committed to uphold quality management and organization principles in keeping with our EN 15038:2006 certificate. We stand by our translations and offer a Certificate of Accuracy to all our clients.